Board of Directors
Bruce Abernethy

Bruce Abernethy moved to Bend in the Spring of 1992 and has been active in a wide range of organizations and causes including serving on the Board of the Bend-La Pine School District, the Bend Park and Recreation District and the Bend City Council (where he served as Mayor of Bend for two years in 2007-08 and signed the Mayor's Climate Agreement during his tenure). He presently serves on the Board of Central Oregon Community College and was elected again last Fall for a second stint on the Bend City Council.
He has been a strong champion for affordable housing and the homeless during his time both inside and outside of government. He is a former Chair of the local Homeless Leadership Council, he helped start the Meth Action Coalition in 2004, and in 2010, he drafted the regional 10 Year Plan to End Homelessness. In 2006, he was appointed by Gov. Kulongoski to serve on the Oregon Health Services Commission and he currently serves on the Central Oregon Health Council – Community Advisory Council. He is active in Rotary Club of Greater Bend and currently serves on their Board.
Debra Dunn
Debra is the founder and president of Synergy Resources Group, a multi-disciplinary firm that specializes in organizational development with a focus on assessments; strategic planning; board governance; process improvement and executive coaching.  She has held executive level positions in nonprofit organizations, for-profit businesses, and consultation services over the last 30 years.  Her education is in business, marketing and accounting. She is a certified facilitator and certified in Hogan Assessment a leadership development system.
Debra also has extensive experience in developing public policy, specifically working on transportation policy as it relates to the efficient and environmentally responsible movement of goods and services.  She brings a business perspective to the issues facing our community on environmental policy and has served as 'bridge' between businesses and the environmental communities to make change.   She has served on countless public policy committees, locally, regionally and nationally on a variety of issues, including seeking solutions for multiple modes of transportation.  In 2001, Debra collaborated with the Oregon Environmental Council to establish a program to phase out mercury auto switches in vehicles. She also received the Environmental Stewardship Award from the EPA, Small Business Assistance Program.
Debra resides in Eugene with her husband Jim and their special rescue cat, Jolie.
JJ Green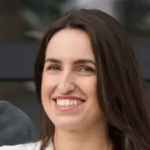 JJ was born and raised on the central Oregon coast, earning her degrees at University of Oregon and has lived in Portland ever since. JJ's educational background in environmental design and architecture led her to work with multiple Portland non-profits modernizing old homes to current energy and safety codes with the dual benefit of creating living-wage jobs for historically underrepresented members of the construction workforce.
"Real estate is unique in that it's often one's biggest investment, but also where we spend and share our lives and keep our loved ones safe. This goes hand in hand with what I love about Oregon Environmental Council. OEC seeks to create equitable solutions that preserve and expand natural resources, protect Oregonians' health, and build long term economic wellbeing…all while maintaining the natural beauty that makes living in Oregon so special." JJ served on OEC's Emerging Leader's Board between 2016 and 2019.
Michael Jung
Michael draws upon over 25 years of experience across the electric power, public service, and clean technology sectors in his leadership of the ICF Climate Center.
Michael serves as the founding Executive Director of the ICF Climate Center, a resource hub for knowledge and insights on climate mitigation, resilience, and adaptation, drawn from ICF's 2000+ climate professionals. Michael's career in energy has reached across both investor-owned and consumer-owned utilities. He has served as a policy advisor to governors and has been an early team member at several successful clean technology startups, including Utilidata, Varentec, and Silver Spring Networks.
Michael most recently served as Vice President for Government Affairs at the Pacific Northwest Generating Cooperative. He chaired an energy task force for Oregon Governor John Kitzhaber and crafted landmark electricity legislation as a policy advisor to the campaign and administration of Ohio Governor Ted Strickland. Michael began his career managing environmental and climate change policy at American Electric Power.
Michael is a U.S. Fulbright Fellow, Tae Kwon Do black belt, former competitive ballroom dancer, professional ski instructor, ping pong entrepreneur, active tennis player, avid backpacker, and Eagle Scout. He is a graduate of Phillips Exeter Academy, Yale College, and the Harvard Kennedy School. Michael speaks English natively and has studied Mandarin, Korean, Russian, and German. He lives in Portland, Oregon with his wife, three children, and labradoodle puppy.
Heidi Khokhar
Heidi serves as the Executive Director at Rural Development Initiatives (RDI) where she has the privilege to work collectively with a vast network of rural people, one of the region's best employee teams, and a web of committed partners to strengthen rural people, places, and economies in the Pacific Northwest.
Heidi grew up in a rural logging town in Southern Oregon at the height of changes in the region's timber industry that pitted various communities, industries, and interest groups against one another. She has passionately served rural communities for 24+ years and is particularly committed to broad and ongoing development of diverse, skilled, and connected local leaders as the "silver bullet" solution to rural economic and community revitalization. She advocates for the elevation of rural voices, increased rural investments and resources, and policies that specifically meet and address the unique needs and issues of rural communities.
Heidi's education is in Planning, Public Policy & Management, with an emphasis on rural development and nonprofit management. Her experience includes facilitating the development of rural community visions and strategic plans; authoring and delivering RDI's Rural Community Leadership program; starting and supporting a 600-person rural volunteer training corps; and launching the WealthWorks Northwest and RuraLead initiatives.
Peter Koehler

Peter H. Koehler, Jr., is the principal of Koehler ADR, LLC, which offers arbitration and mediation services for commercial and sports-related business disputes. Peter retired in October 2014 as Vice-President, Legal, for NIKE, Inc., where he managed the global Legal Department and advised the business. Prior to NIKE, Peter was a partner with Tonkon Torp LLP, Portland Oregon, including serving as the Managing Partner from 1997–2002. Peter attended Boalt Hall School of Law, Berkeley, receiving a J.D, in 1982, and graduated with Distinction from Stanford University in 1978. He has served on a number of non-profit boards, leading many of them, including the Oregon Shakespeare Festival (President 2015-2018), Classroom Law Project (President 2016-2018), Portland Institute for Contemporary Art (past President), the Volunteer Lawyers Project (past President), Artists Repertory Theatre (past President), and the Multnomah County Legal Services for the Poor Committee (past President). He also serves as a Trustee of the James F. and Marion L. Miller Foundation in Portland, Oregon.
Peter and his wife Noel Hanlon, a poet, live in north Marion County on a working farm.
Antonio Lara
Antonio Lara resides in the Portland area and has been a part of Lara Media since 2001 where he currently serves as Chief Marketing Officer. His primary responsibility is to provide strategic guidance as part of the agency's leadership team, manage projects and marketing campaigns for clients, and manage relationships with advertising agencies, trade journalists, and editors. He also applies communications, public relations, and marketing tools to raise Lara Media's brand awareness and build the corporate reputation of the agency among key audiences, such as current clients, prospects, partner agencies, and media.
With a bachelor's degree in mechanical and industrial engineering from ITCH in Chihuahua, Mexico, Antonio began his career in Mexico as a supervisor and project manager for Essex, a subsidiary of Chrysler. Antonio is also an active musician and an advocate for the arts.
David Lohman
Dave Lohman grew up in Ashland, attended public schools there, and graduated from Yale University and the University of Michigan Law School.  He has worked as a public school teacher, congressional campaign manager, U.S. Senate Appropriations Committee staffer, deputy director of a state agency, director of Port of Portland's policy and planning department, litigator business lawyer, and until recently as an Ashland City Attorney.
Dave has served as a member of the Portland Bike and Pedestrian Advisory Committee, the National Coastal Resources Institute board, the Cycle Oregon board, the Rogue Valley Art Center and Gallery board, and the Oregon Transportation Commission.
Makely Lyon

From the Bottle Bill to the Urban Growth Boundary, growing up in Oregon gave Makely early exposure to how environmental policies can support a cleaner environment and healthier lives. Out of this experience, she was inspired to make the environment and sustainability a part of her life and career. While a college student studying economics and environmental policy, Makely had the opportunity to intern for OEC during two summers. Now a corporate sustainability professional, Makely is thrilled to reengage with OEC as a member of the board.
In her free time, Makely enjoys running, hiking, water sports and traveling in the Pacific northwest and around the world. She holds a BA from Middlebury College, as well as a MS, Natural Resources and Environment, and an MBA from the University of Michigan.
Karen Moynahan
Karen Moynahan is Chief Deputy City Attorney for the City of Portland for Utilities and the Environment. She has been litigating environmental issues for more than 30 years, previously for the States of Oregon and New Jersey. Karen became interested in environmental issues during the third grade on the very first Earth Day when she and her friend cleaned up the local stream as part of the pollution project. Karen and her husband live in Dallas, Oregon where they enjoy biking and walking their two dogs, Jingles and Taylor.
Elizabeth Silberg
Elizabeth Silberg believes if you have a better balance, you achieve a healthier whole — that is, the best version of yourself. Then again, if you don't go too far, it will be hard to find your limits. So she always takes on a challenge that offers an opportunity to help her be a better person.
Elizabeth is a Director of Digital Product Management and Transformation at IBM, and before that, held roles ranging from the most established areas of the business to the most nascent. This includes transforming IBM to a new way of working, identifying and validating new ideas for Smarter Cities products, driving Agile transformation and managing common services in the Rational brand, developing cross-brand tooling within IBM's Systems and Technology Group and building IBM's strategy in Software. Through these roles and patent submissions, she discovered her penchant for fixing things through integration, efficiency and empowerment — building organizational capability and self-directed teams through trust, empowerment and support, as well as connecting dots, systems and people into cohesive, stronger units.
She is the Finance Chair and Treasurer on the Board of Directors for Saturday Academy and also volunteers with various other education, empowerment and environmental organizations. She likes to experiment with different training for mind, body and well-being, so you might also find her on the stage, in the gym or out with nature.
Jean Wilson
Jean Wilson is highly committed to the renewable energy business, with over 20 years of executive level experience with solar and wind project development. Most recently Jean served as Senior Vice President for the Utility and Commercial Americas business unit of SunPower Corp. In this role she built SunPower's large scale solar power plant business in the U.S., Chile and Mexico, developing some of the largest solar photovoltaic power plants in the world.  Prior to joining SunPower, she served as Senior Vice President of renewable energy at PPM Energy (now Iberdrola Renewables), where she led a team of more than 130 professionals in the acquisition and development of over 2,400MW of wind power projects, and grew a wind and solar power project pipeline in excess of 18,000MW. Jean moved to Oregon in 1993 to help open the Northwest office of Kenetech Windpower. She was a member of the Boards of the Renewable Energy Policy Project, and of Oregon BEST. Jean holds a Bachelor of Science in finance from the University of Southern California and a Master of Business Administration from Stanford University. She resides in Northeast Portland with her husband and three daughters.
Philip Wu
Philip Wu is a pediatrician and member of the Community Benefit team at Kaiser Permanente Northwest. After retiring from a 33-year clinical practice, Dr. Wu now works to promote healthy, equitable communities through policy advocacy, program and system changes within the framework of the "social determinants of health." He serves on several community boards including the Northwest Health Foundation, Oregon Oral Health Coalition, Outside In, The Intertwine Alliance, and Community Cycling Center. Dr. Wu has an interest in transportation as a "social determinant" and has participated on the transportation committee of the Westside Economic Alliance, the Washington County Transportation Futures Study project, and ODOT's Transportation Options Policy Advisory Committee. He recently concluded two years of service on Metro's Equity Strategy Advisory Committee. Dr. Wu and his partner enjoy walking, hiking, and simply being in nature.
Barton Robison
Driven by his own transformative experience in nature during college, Barton's personal mission is to ensure that everyone has barrier-free and equitable access to the outdoors and its benefits. "I don't think kids should be limited in their access to nature based on how large their town's tax base is."
The recent completion of the Chiloquin Green Schoolyard embodies his values. Alongside tribal, national, state, and local partners, Barton has worked hard to help fund, design, and build an inclusive, nature-based, and culturally-specific community park and playground at Chiloquin Elementary School in Klamath County. "It was a reminder of the power of self-determination and the importance of community-driven processes…and, for me, it was a reminder of why I do this work."
Barton has a master's degree in Public Administration and a graduate certificate in Tribal Relations and is skilled at cross-sector collaboration and facilitation, strategy development, fundraising, and helping community and government partners connect and work together.
Nico Larco
Nico Larco is a Professor of Architecture at the University of Oregon, Director of the Urbanism Next Center and Co-Founder and Co-Director of the Sustainable Cities Initiative, a nationally and internationally awarded, multidisciplinary organization that focuses on sustainability issues as they relate to the built environment. Professor Larco's research focus includes sustainable urban design and the impacts of emerging technology on cities. The Urbanism Next Center, which he leads, is focused on how technological advances such as autonomous vehicles, new mobility, e-commerce and the sharing economy are changing city form and development. Prof. Larco assists cities and projects with future-proofing, has run workshops and charrettes nationally on this topic, and is currently coordinating work in this area with various municipal and state agencies around the country.